The Viña Meín vineyard complex is divided into 14 small plots with a total of 18.3 ha. The vast majority of the vines are located in San Clodio, all around the winery. The vines are pieces of a smallholder jigsaw puzzle with different orientations, exposures, varieties, microclimates and altitudes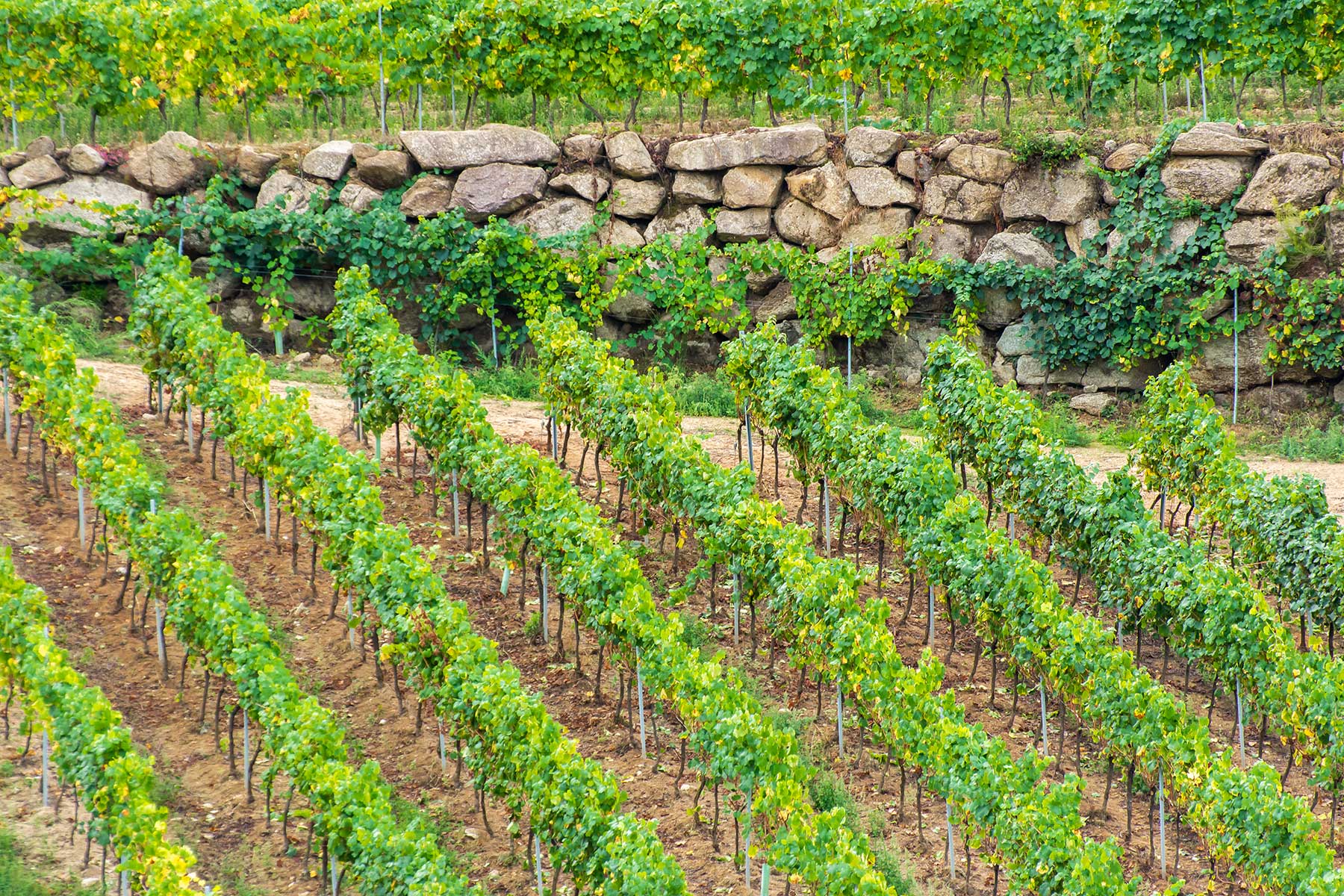 San Clodio vineyards
The farms located in San Clodio are in the winery's contour. The altitude varies between the 100 metres of Cuñas de Abaixo and 193 meters of Mosquera, the highest farm in Meín Vineyard.
Finca Meín: this is the original and most emblematic vineyard. This spans 2.5 ha. in a single plot with terraces and walls that are pure history. This is the largest farm in Viña Meín and the winery is located in it. Treixadura predominates with Albariño, Loureira and Caíño Blanco varieties on "sabrego" (decomposed granite) soil at an altitude between 150 and 180 metres.
Toro: this is the winery's oldest plot. Extended over just 1,165 m2, it was planted in 1960 with Garnacha Tintorera and is located right next to the house. Its peculiarity lies in the fact that the land is worked on in the same way as in the past: in handling rods or stakes of acacia, traditional pruning and manual binding with vimbio (wicker). Sabrego soil.
Mosquera: this is a small farm spanning 0.67 ha. surrounded by mountains and adjacent to Finca Meín. It is planted with Treixadura and Albariño on sabrego soil. In our highest farm, at 193 metres.
As Searas: Treixadura with Godello, Albariño, Torrontés and Loureira predominate in this 2.18 ha. farm on sabrego soil.
Regueira: this is a very special farm. Surrounded by mountains and large granite rocks, a part of the vineyard is on steep terraces. It has 1.68 ha. of Godello and Treixadura plus Albariño and is adjacent to Mosquera.
Ricardo: this is located in front of the entrance to Viña Meín. This plot spans 2.18 ha. planted with Treixadura, Albariño and a few sousón plants. Sabrego soil.
As Costas: vineyard spanning 1.33 ha. of Treixadura planted on sabrego soil.
Cuñas de Arriba: plot of 0.95 ha. of Lado, Torrontés, Treixadura and Godello planted on sabrego soils.
Cuñas de Abaixo: plot spanning 1.22 ha. of Treixadura planted on sabrego soils.
Gallegos: small farm spanning 0.97 ha. of Treixadura and Godello on sabrego soil.
Gomariz lies next to San Clodio, where we have two farms. A Vilerma, a plot spanning 1.55 ha. of Treixadura on sabrego soil with some clay; and Tega, a small vineyard of 0.90 ha. of Treixadura with some Albariño plants on sabrego soil with boulders and some shale. Both are at an altitude of 190 metres.
Our two plots of red varieties are Osebe, a small vineyard spanning 0.93 ha. of Brancellao on sabrego with very fine soil. And Ribeira, a vineyard of 1.05 ha. planted with Caíño Longo on sabrego soil with some shale. Both are at an altitude of 120-150 metres.