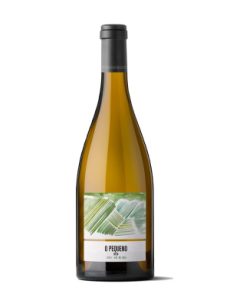 O Pequeno Meín 2021
O Pequeno 2021 is the representation of the Avia valley, of its historical viticultural. Historic viticultural interpretation, its sábrego soils and a climate that requires and a climate that demands meticulous care on the part of the team. This wine preserves the diversity and richness of the environment with an assemblage of different vines. Of different grape varieties: treixadura, albariño, godello, torrontés and loureira, torrontés and loureira. A winemaking process that shows the path the Viña Meín-Emilio Rojo project. Varieties local varieties from the Avia valley that reflect the work of viticulture in the Galician in the Galician hinterland. Aromatic, suggestive. Fresh and expressive profile. expressive character.
The winter of 2021 was rainy, accumulating a large amount of precipitation from the end of January to the beginning of March. Budbreak came at the end of this month, combined with high rainfall, which required special demands in the management of each plot. Sunshine and warmth appeared at the end of July, facilitating optimal development of the vineyard. The year was heading towards an uncomplicated harvest until September, when first hail and then several days of rain made harvesting difficult. Both in the vineyard and in the winery, all the grapes were selected cluster by cluster to ensure the exact ripening point and maximum quality in the winemaking process. The harvest began on September 6 and ended on September 28 for the white varieties. 2021 was a turning point in the production of Viña Meín-Emilio Rojo as it achieved the desired balance in the vineyard and showed the essence of future vintages.
The Avia valley is a mosaic of plots that develop in a green environment marked by high rainfall. The local varieties provide a special richness and diversity for this environment. The common element is the soils of decomposed granite, or sábrego, as it is known locally, which allow the frequent rains to drain perfectly; on the other hand, the summer seasons demand a high resistance from the vines.
O Pequeno 2021 uses only its own vineyards of the traditional local varieties: treixadura, godello, albariño, torrontés and loureira. During the harvest, each variety from each plot is harvested separately, respecting the optimum ripening moments. On arrival at the winery, the wine was made in different stainless steel, oak and concrete tanks. O Pequeno expresses the character of a valley unique in its diversity and climate. The precision with which the vineyard is worked is reflected in the final identity of this wine. After approximately nine months of aging in the same fermentation tanks, it was bottled in June 2022.